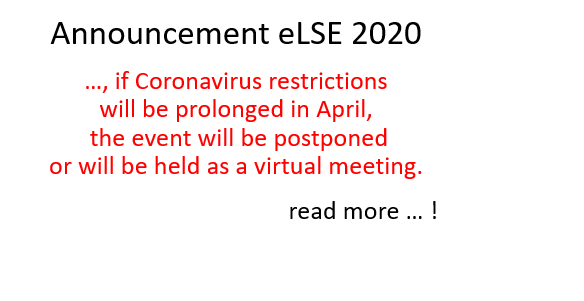 Dear colleagues and friends,
The eLearning and Software for Education Conference (eLSE) is being affected by the escalation of the spread of coronavirus (COVID-19), which the World Health Organization has characterized as a pandemic. This has led to concerns being raised by attendees, exhibitors, and speakers who have been prohibited from traveling due to government travel advisories and bans as well as employer restrictions on attendance at large meetings, among other reasons. We have been closely monitoring the progression of the coronavirus and we are exploring the possibilities that the conference be held at the time and place initially announced but considering the safety and health for all the speakers and attendees. According to the current official statements and recommendations, if restrictions will be prolonged in April, the event will be postponed or will be held as a virtual meeting.
Now, the reviewers are in the final phase of paper evaluation and their decisions will be announced at the beginning of the next week. In all the presented situations, the accepted papers will be published as scheduled in the conference proceedings and will be sent for indexation.
We deeply hope you can understand these circumstances and we are sorry for any inconvenience. The next days we will intensively work on the organizational issues coming up, please contact us for personal clarification, which may occur (we will respond during the next week).
Stay healthy!
Best regards,
eLSE Conference Organizing Committee